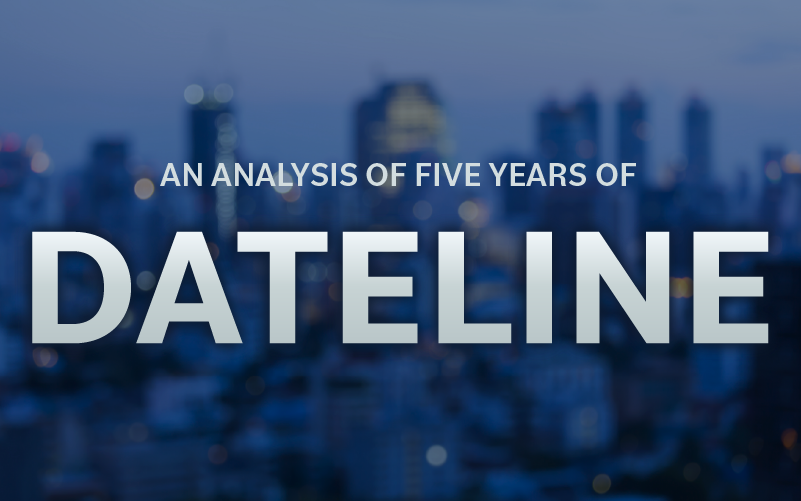 Dateline on NBC has been on the air for nearly three decades and has become one of America's favorite sources for true crime and real-world legal drama. Across the country, millions have tuned in weekly for years in order to learn the details of crimes, ranging from spouse murder to elaborate bank robbery schemes, that are often stranger than fiction.
At Casefleet, we are huge Dateline fans, both as an impressive feat of journalism and as a fascinating television staple. Almost as closely as we follow trends in legal technology, we've been closely following the show throughout the years as Lester Holt and his colleagues captivate with these stories. As fans of the show who also happen to work in the legal field, we got to wondering: what can we learn from the history of Dateline? As the show has been running for nearly 30 years, how has it adapted to a modern audience?
We decided to analyze the last 5 years of Dateline (over 270 episodes) to see what trends we could find. We used this handy guide of Dateline episode summaries – supplemented with IMDb, various news sources on individual cases, and our fair share of binge-watching episodes – to collect our findings on everything from the crime itself to the outcome. What we found is a fascinating glimpse into this show's content, and we had a lot of fun along the way! Read on to take a look at our analysis.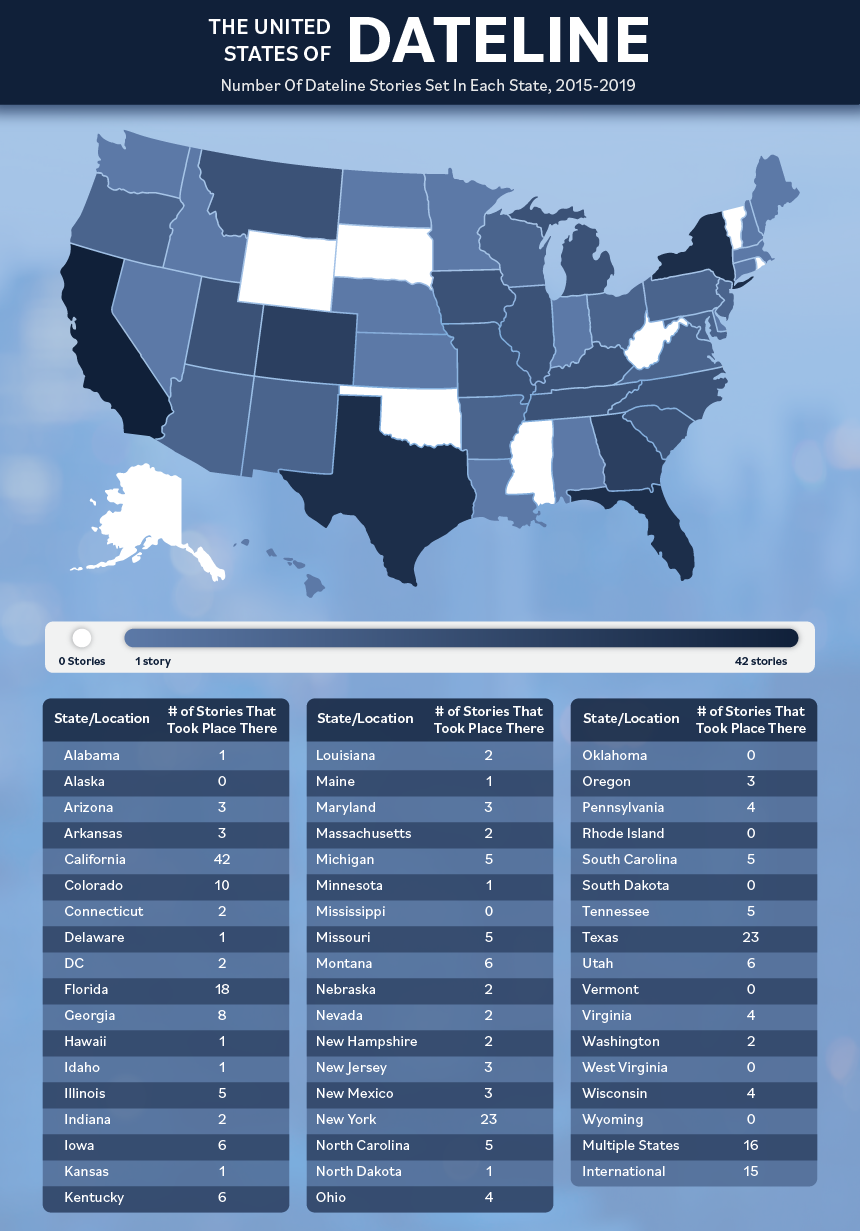 First, we took a look at the number of stories in each state that ended up being featured on Dateline. The states with the most cases include California (42), Texas (23), New York (23), and Florida (18). Many stories took place in multiple states, and even some internationally. However, Alaska, Vermont, Wyoming, South Dakota, Rhode Island, Oklahoma, and Mississippi have not been featured on Dateline in the last five years. That's probably a good thing!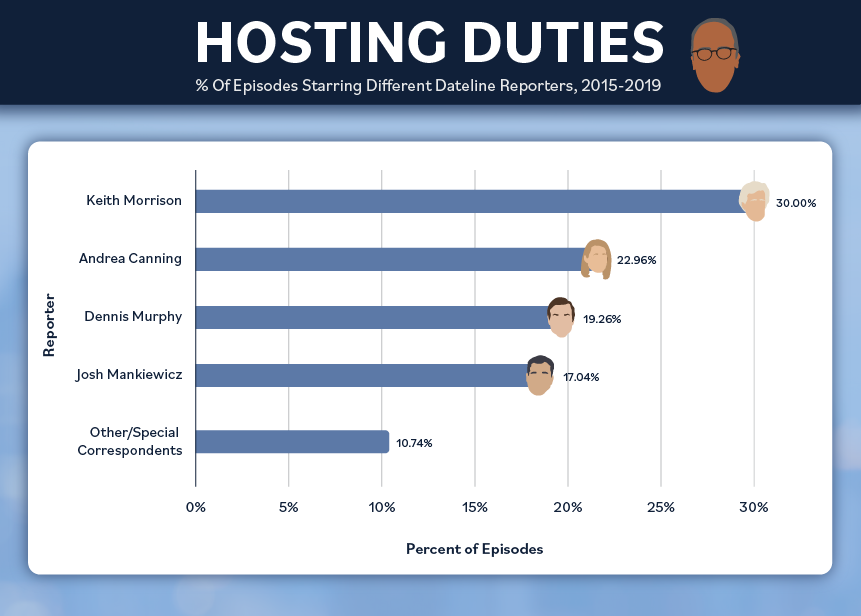 Next, we wondered how often some of the Dateline staff reporters have guided us through cases. While everybody's favorite host Lester Holt introduces each case to us, 30% of the time, we're taken through the actual case details by Keith Morrison. Andrew Canning hosts about 23% of cases, whereas Dennis Murphy and Josh Mankiewicz host less than 20%. About 11% of Dateline cases are brought to us by other or special correspondents.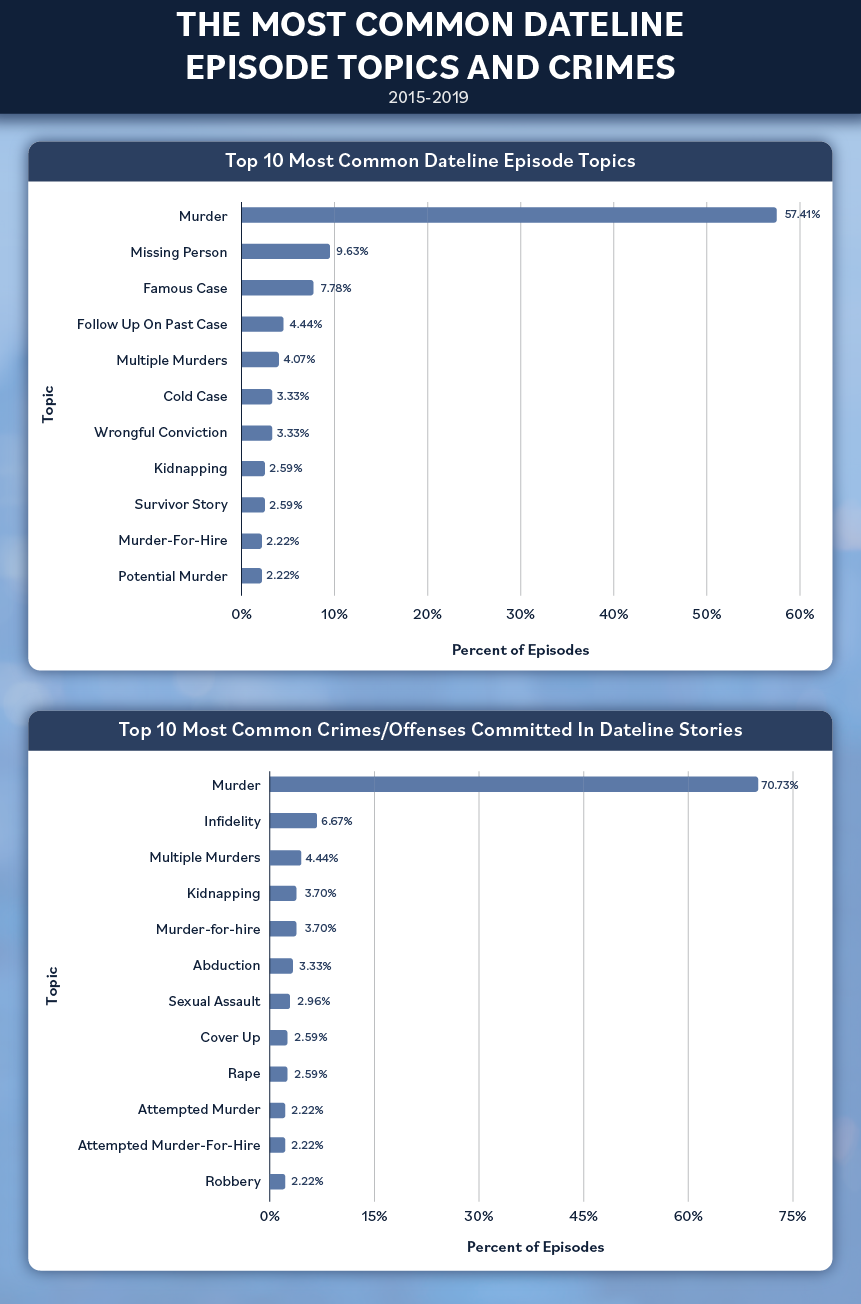 It may feel like every Dateline episode is some sort of spouse murder, but is that truly the case (no pun intended)? According to our analysis, over 57% of Dateline cases involve a unique murder case as the main topic. Other popular topics, including missing persons, famous cases, and follow-up episodes on past cases, are significantly less common. As it happens, over 70% of crimes committed in Dateline cases include murder. Crimes like kidnapping, sexual assault, and robbery make up less than 5% of cases reported on Dateline.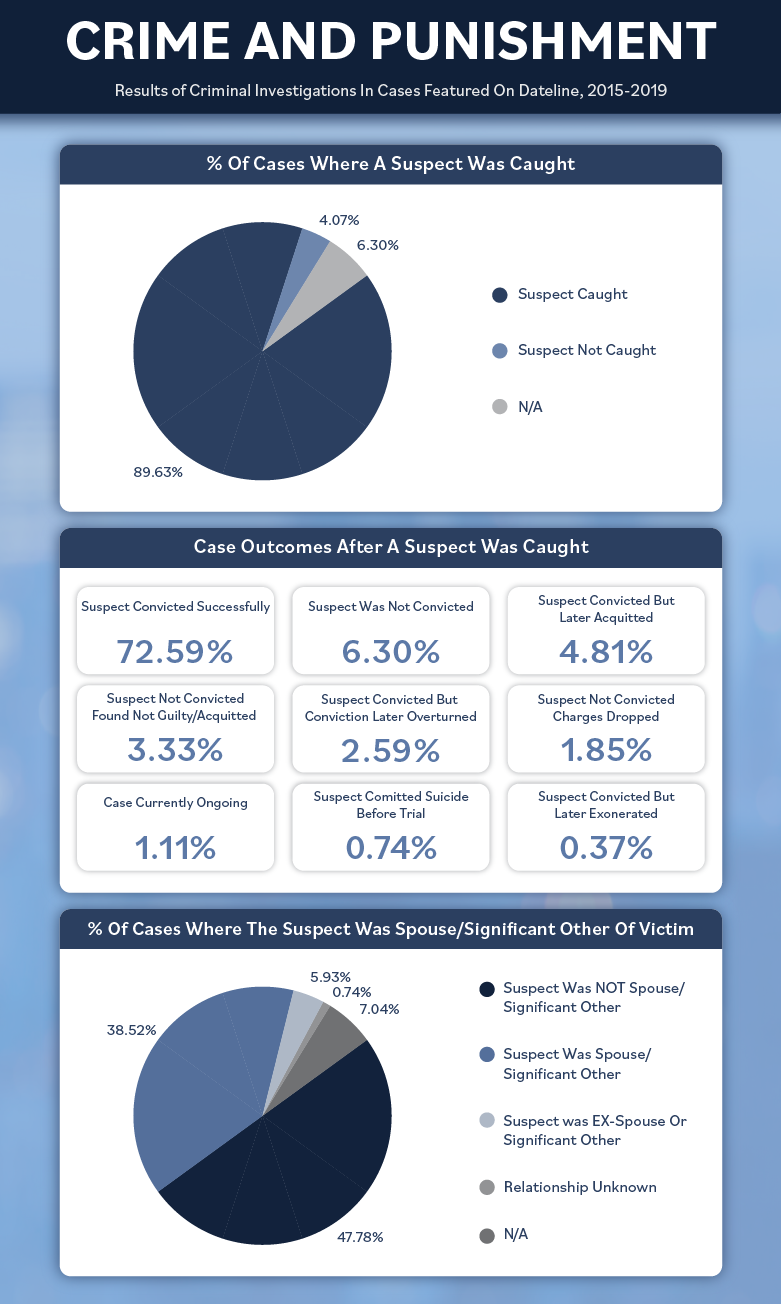 How exactly do these cases play out in the courts, then? In nearly 90% of cases, the suspect is caught and subjected to the justice system. In 72.59% of cases, the suspect is convicted. Interestingly, in over 5% of Dateline cases in the last five years, suspects have been convicted of their crimes but are later acquitted or exonerated.
Remember when we were talking about spouse murder? Well, as it turns out, in 38.52% of Dateline cases, the suspect IS the victim's spouse or significant other. In 7.04% of cases, the suspect is the victim's ex. But 47.78% of Dateline cases don't involve a romantic relationship between the suspect and the victim. Who knew?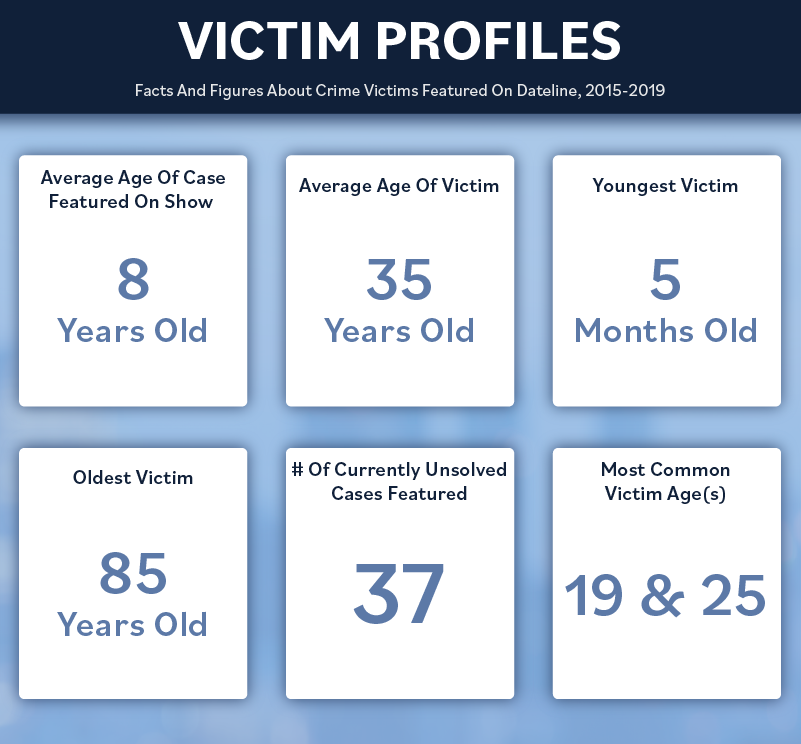 To learn more about the victims featured on Dateline, we took a deep dive into our research to look at their demographic information. Over the last 5 years, Dateline aired cases of victims ranging from 5 months to 85 years old. The average age of a victim is 35, but the most common ages were 19 and 25. Additionally, the average age of a case featured on Dateline is about 8 years old, which makes sense when you consider how long investigations and court cases can take. Of the 270 cases we analyzed, 37 remained unsolved at the time of our analysis.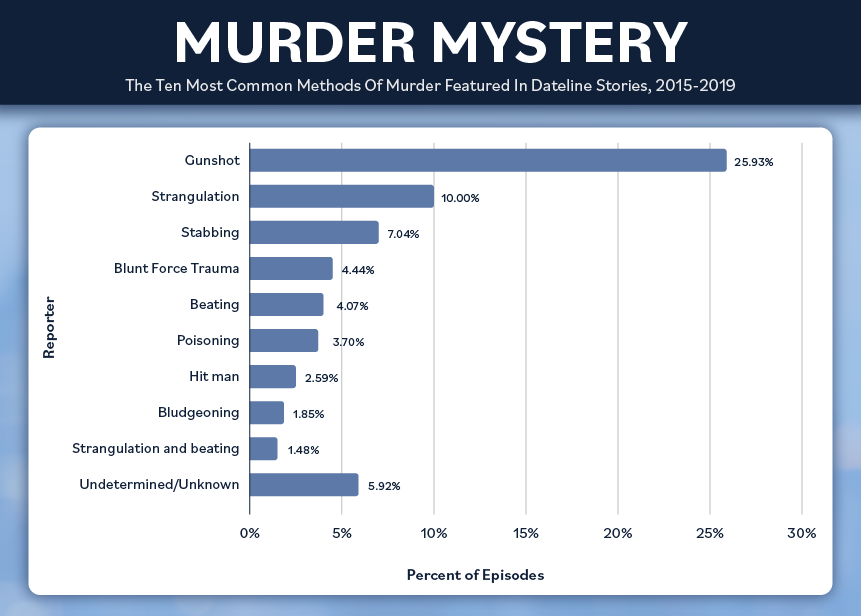 Finally, we collected information on the most common methods of murder featured in Dateline stories over the last 5 years. The methods were varied but included methods such as gunshots (25.93%), strangulation (10%), and stabbing (7.04%). It's comforting to think that the vast majority of these criminals were convicted of their crimes!
There you have it – our complete analysis of Dateline cases over the last 5 seasons. We admire Dateline's longevity as a show, and how the cases always feature examples of high-quality investigative and legal practices in communities across the country. If you're in the legal, medical, or investigative field and you're looking for a way to streamline your case-building, check out the various use cases of our software.